Working For Peanuts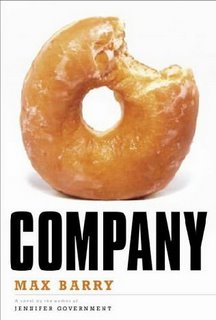 I'm sorry, Mr. Barry, but your recent work just hasn't been up to par.
That might seem a little harsh.
But Max Barry's new novel
Company
cuts corners that his phenomenal
Jennifer Government
—and even his first novel,
Syrup
—rounded with
exuberant glee.


Stephen Jones is fresh out of business school and heading for the corporate world with a spring in his step.
He gets an entry-level job at Zephyr Holdings as a sales representative's assistant, and is soon promoted to sales rep.
When he realizes that the sales department sells training packages to other departments of Zephyr, and fails to find any explanation for this, "Jones feels faint.
He is realizing that he took a job at a company without knowing what it does."
Jones, intrepid young sales rep that he is, makes it his mission to find out what, exactly, it is that Zephyr does do.

So begins a tale of corporate woe, intrigue, and Barry's requisite gorgeous woman.
Barry's trademark razor wit is here, but the devastatingly funny—and at times just devastating—insight that made Jennifer a standout is nowhere to be found.
Part of my less-than-enthusiastic response is likely due to the fact that I've never actually worked in an office, and hope I never do.
For that reason alone, most of the "office humor" is probably lost on me.

T
he plot and characters seemed flatter than is typical for Barry as well.
Jones seemed single-mindedly righteous, without much emotional wavering (except when in the arms of said requisite gorgeous woman).
The rest seemed either single-mindedly ruthless or single-mindedly, blindly devoted.
Eve, the gorgeous woman, was of the callous variety and showed none of the depths of Syrup's 6 (yes, apparently Neal Stephenson isn't the only one who can't resist weird, numerical names) or Jennifer's Jennifer.
The really big twist wasn't all that unforeseen—even though my mind hadn't gotten around to stating it explicitly, I knew what was going on before realization ever dawned on Jones's fresh face.
It was obviously supposed to be a huge paradigm shift, but it didn't have the devastating (I like that word today) impact that I felt it should—and could—have had.
Even the climax, a cluster of scenes obviously designed to combine Syrup's lightning and Jennifer's thunder, amounted to little more than a listless rainstorm as far as I was concerned.


I don't mean to mercilessly bash the book—it's solid stuff, worth a few chuckles, and probably more enjoyable to people who warm seats in cubicles five days a week.

I simply feel that, having read his earlier work (and his infrequently-updated but always amusing blog at www.maxbarry.com), that Barry can do better than this, and that we readers deserve better.

I'll eagerly await his next book with the hope that he realizes the same.